Hey there. Just wanted to ask if anyone had anti-gas strategies since vegans tend to be gasier than non-vegans. I also thought I'd share this recipe for chocolate chip cookies because it is amazing. Martha recipes always are.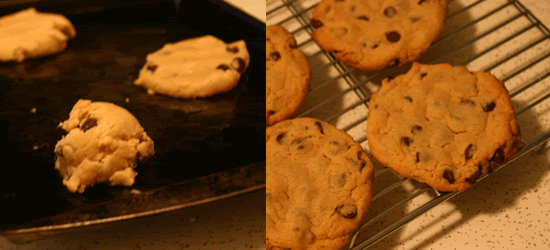 Veganized Martha Stewart Chocolate Chip Cookie Recipe
(i.e. best cookies in the world, ever)

2 1/4 cups self-rising flour (better for vegan stuff)
1/2 tsp. baking soda
1 cup (2 sticks) unsalted margarine, room temperature
1/2 cup granulated sugar
1 cup packed light-brown sugar
1 tsp. salt
2 tsp. pure vanilla extract
1/2 cup blended tofu
1 tsp. cornstarch
2 cups chocolate chips (1 bag)

Put one juice box/shelf pack of firm tofu into the blender (sometimes I add a tsp. of oil) and whiz it up smooth and liquidy.* Cream the butter and sugars until light and fluffly. Add tofu, cornstarch, and vanilla and fluff some more (although I don't usually use vanilla ever). Mix flour, salt, baking soda seperately and whisk then add to the butter mixture (but I usually just dump it all on top as I measure). Mix well then add chocolate chips, or nuts, or 1 cup oatmeal, whatever (the article I got this recipe from has oodles of variation recipes). Drop onto a greased cookie sheet. For this I use a regular old ice cream scoop (nothing fancy) and fill it up. I drop that honker onto the cooky sheet and smoosh it flat, but not really thin. It's about 1/3 cup dough smooshed into a 2 1/2 inch circle. Give them a lot of space. I do 3 cookies on one 9 x 13 baking sheet (we have weird, tiny pans). Bake at 350F for 12-14 minutes. Cool 2 minutes on pan, then transfer to rack for no more than 20 minutes (unless you want them crispy). Then I put them right away into a ziplock to keep them soft. Yummy!
*The whizzed tofu will keep in the fridge for about a week. Use for waffles, extra spongey pancakes, other baked goods, quiche, smoothies, etc.